SKYMASTER ZKP 3C Upgrades
Decades have passed since the first installation of a SKYMASTER ZKP 3 small-dome planetarium – years that have seen substantial improvements in computer hardware, control technology and operating software. Since Fulldome systems began to enter planetarium domes, there has been a growing interest to couple them with the optical-mechanical star projector, and this too is possible!
Upgrades
Whether you want to run Fulldome shows or enhance your live astronomy lectures, adding VELVET projection allows you to keep the rich black ZEISS sky that you have come to enjoy. Only VELVET with its 2,500,000:1 contrast lets you continue to work with the classic night sky without adding light pollution from the ambient gray backgrounds typically associated with digital projection. Anything that can be projected with the star projector can be replicated digitally.
With helpful tools such as adding trails to the motion of any object in the sky, you can more effectively demonstrate familiar astronomical events and concepts like seasons, motion of the planets, conjunctions, or even draw an analemma along the meridian. Show all the constellations, controlling each individually at a unique brightness and color. Create your own shows or present live, controlling both systems from the same console or a hand-held tablet with a modern web-based interface…all while maintaining your current beautiful night sky.
Step 1:
Contact us right away to let us know how you currently use your planetarium. We can help you take care of your existing instrument with periodic maintenance, discover what upgrades are available, and guide you along the path to taking your visitors to the next level with sound, seats, LED cove lighting and more.
Step 2:
Upgrade to the latest computer control to bring your ZKP(3, 3A, 3B) to a ZKP3C. This step will not only prepare your system for hybridization, but also replaces some parts of your existing control system that may no longer be manufactured. With ongoing maintenance and upgrades, you can extend the life of the instrument.
Step 3:
Add Fulldome capabilities with VELVET projectors for the finest in digital projection technology integrated with your existing instrument. We also offer advanced visualization and show playback through UNIVIEW to let you fly your visitors around the known universe and much more. Looking for an even better night sky? Consider replacing your ZKP3 with a new ZKP4 with fiber optic stars and LED illumination.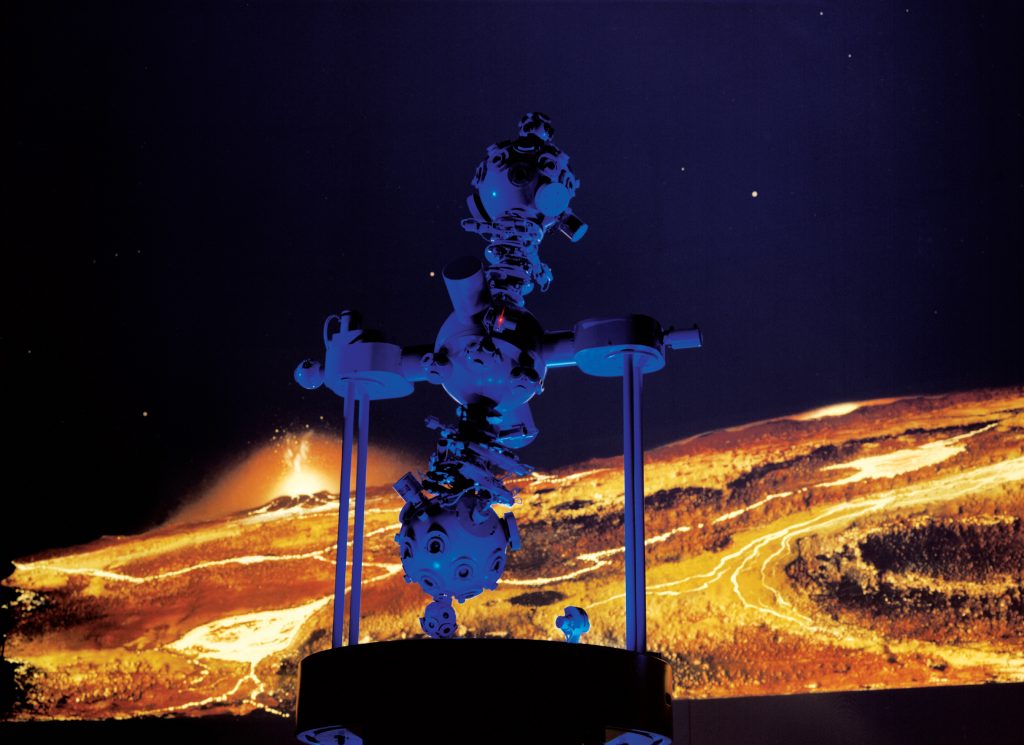 New Control Technology
The kit includes a new control computer with modern features, operating system and updated control software, which permits intuitive control of the planetarium projector
The user interface meets up-to-date standards, and simplifies command input and programming. In the Edit mode, control commands can both be entered and executed manually. During live operation, the system automatically logs all commands; playback is possible either with time control or via synchronizing signals. The software provides analog and digital displays of the current hardware settings. The time of the day and the geographical longitude now are the preferred parameters for projector control. The previous setting in terms of sidereal time is advantageous only in certain cases.
Hybrid Planetarium
The new upgrade provides all prerequisites for coupling the SKYMASTER ZKP 3 with a ZEISS Fulldome system for performance as a hybrid planetarium. Both systems are jointly controlled by UNIVIEW. With UNIVIEW and a ZEISS Fulldome system, the user gets a comprehensive digital planetarium, suitable for both live operation by means of the operating panel, and programmed playback.
Installation
ZEISS service engineers will install the upgrade and brief users about the new operating procedures. As an option available with the upgrade, users can contact ZEISS to perform remote system diagnosis and maintenance, provided the control computer is accessible via the Internet.